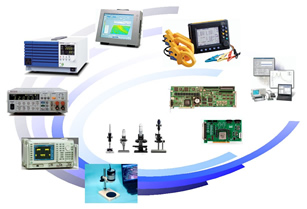 A general trading company for
Test & Measurement
Computer & Component
Observation & Imaging

We deeply value development of people-to-people connection.
Our sales policy is to respond to your needs speedy and faithfully continuing two-way
communication with you so that we can serve further growth of your Company.
Quick response and service
We willingly contribute to coordinate with users and manufactures closely to realize your needs.
We provide complete after-sale service with speedy and flexible efficiency.
If you need rental system please contact us.
Company Profile

Registered name

Date Established

Capital

Authorized Capital

Account End

Number of employees

President

Bank Account

Hodaka Denshi Co., Ltd.

March3, 1967

75 million yen (as of January 2009)

200 million yen

May20th

78 (as of September 2012)

Katsuya Suzuki

Tokyo Mitsubishi UFJ Bank



HeadOffice
(JAPAN)

834-2,Bukko-cho,Hodogaya-ku,Yokohama 240-0044
TEL +81-45-331-9302 FAX +81-45-333-9257




SalesOffices
(JAPAN)

Yokohama, Atsugi, Tokyo, Nagoya, Mie, Hamamatsu, Osaka, Kyoto, Okayama





SalesOffices
(CHINA)

SHANGHAI HODAKA TRADING CO., LTD.
Post-No:200336 601B Room. No.2 Building No.641 Tianshan Rd.
Changning Shanghai China
TEL +86-21-52068971 FAX +86-21-52068973




SHANGHAI HODAKA TRADING CO.,LTD. ( Zhongshan regional office )
Post-No:528436 1025 Room, JuHao Tiny, Torch Development Zone,
ZhongShanCity,Guangdong Province
TEL +86-760-88289262 FAX +86-760-88289262




SHANGHAI HODAKA TRADING CO.,LTD. ( Dalian regional office )
Post-No:116021 1001Room, No.6, Boguangyuan Hongling RD
High-tech Park, Dalian, Liaoning Province
Mobile +86-138-9866-2824




SalesOffices
(THAILAND)

HODAKA ELECTRONICS (THAILAND) CO.,LTD. ( http://hodaka.co.th/ )
23/42,16th Floor,SORACHAI Building Soi 63 Sukhumvit Rd,Klongton-nua Wattana,
Bangkok 10110, Thailand
TEL +66-2-726-9077 FAX +66-2-726-9078




Eastern branch
134/147 Neoliving Condo, Moo 3. T.Bowin, A.Sriracha dirtrict,
Chongburi 20230,Thailand
TEL +66-38-058021 FAX +66-38-058020




Affiliated business
partner (MALAYSIA)

EMS TEST MEASUREMENT SDN BHD. ( http://www.ems-info.com.my/ )
No.76 Jalan Masjaya 1, Kawasan Perindustrian Mas Jaya Cheras
43200 Selangor Darul Ehsan Malaysia
TEL +603-9080 2086



Products
Test & Measurement
Analog Oscilloscope, Digital Oscilloscope
Spectrum Analyzer, FFT Analyzer
Digital Tester, Digital Multimeter
Withstand Voltage Tester, Insulation Tester
Signal Generator, Function Generator
Protocol Analyzer
Recorder, Memory Recorder, Temperature
and Humidity Recorder
Mounter, Re-workstation, Solder Bath,
Solder Absorber
AC/DC Power Supply
Frequency Counter, Universal Counter
Optical Power Meter, Optical Spectrum
Analyzer
LCR Meter
Logic Analyzer, ROM Writer
Data Logger
Incircuit Tester
Computer & Component
Personal Computer
Engineering Work Station
Computer Peripherals
Network Peripherals
Boards
Single Board Computer
Compact PCI Board,
DSP Board
Image Processing Board,
Image Input Board,
Analog/Digital¥Input/Output Board
Panel Computer
Cards
Card Computer
Memory Card,
Input and Output Card
Software
Simulation Software
Measuring Software,
CAD Software
Control Software
Observation & Imaging
Digital Microscope
Microscope
Magnifier
Scanning Electron Microscope
Cross-section Polisher
X-ray Fluorescence Spectrometer
High-speed Camera
Image & Measurement Data integration system
Measuring system by use
Digital Broadcasting System, Bluetooth Evaluation System, EMC/EMS Noise System,
(EMI¥EMS Power High-frequency), Vibration Environment Test System, Battery charge and
Discharge System, FA¥OA Computer System, DVD Evaluation System,Relay Test System,
Printed-circuit Board System, Image Processing System,Oscillation Noise Analysis System,
Motor Torque Measurement System, Power Electronics Development System,
ECU Development System
Built-in Equipment
Computer Boards, Computer Components, Built-in Power Supply,Hybrid IC (Power Supply,
Oscillator, Resistor, Amplifier, Filter)
Main Manufacturers
A&D Co., Ltd.
Advantest Corporation
Anritsu Corporation
Chubu Electronic Co., Ltd.
Contec Co., Ltd.
DSP Technology
Digital Hands Co., Ltd.
Espec Corp.
Graphtec Corporation
Hioki E.E. Corporation
Interface
Iwatsu Test Instruments Corporation
Japan Data System Co., Ltd.
Keisoku Giken Co., Ltd.
Kikusui Electronics Corp.
Kokuyo Electric Co., Ltd.
Konica Minolta Group
LeCroy Japan Corporation
Leader Electronics Corp.
LUMANTEK Co., Ltd.
MITS Electronics
Matsunaga Manufacturing Co., Ltd.
Meguro Electronics Corporation
Micronix Inc.
Minato Electronics Inc.
Moritex Corporation
NEC Avio Infrared Technologies Co., Ltd.
NF Corporation
Nakaden Corporation
Nippon Vision Engineering Ltd.
Noise Laboratory Co., Ltd.
Ono Sokki Co., Ltd.
Photron Limited
Rohde & Schwarz Japan K.K.
SKYware Corporation
Sanwa Electric Instrument Co., Ltd.
Shibasoku Co., Ltd.
Shieldroom Engineering Co., Ltd.
Shishido Electrostatic, LTD.
Softex Corporation
Takasago, Ltd.
Tektronix Japan, Ltd.
TEXIO Corporation
Tokyo Seiden Co., Ltd.
Rental Agency
ORIX Rentec Corporation